Mobile Forms
Automate any business process with Snappii
Convert outdated and inefficient paper-based processes to mobile forms and apps. Access your mobile forms 24/7 and fill them out anywhere. Speed up decision making and reduce unnecessary office visits! Save time and reduce expenses with mobile forms.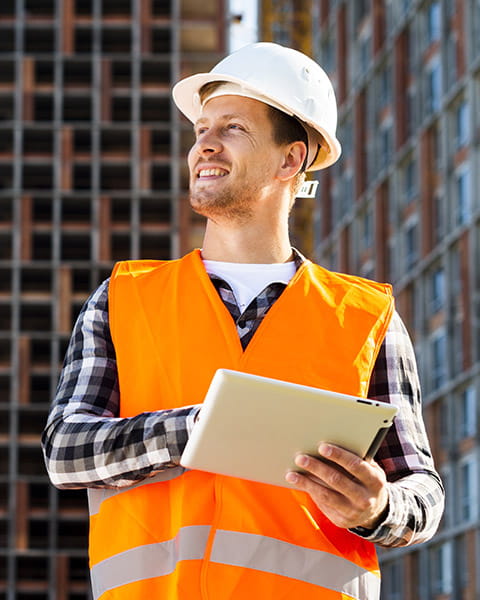 A New Era of Mobile Forms
Make digital form conversion easier and faster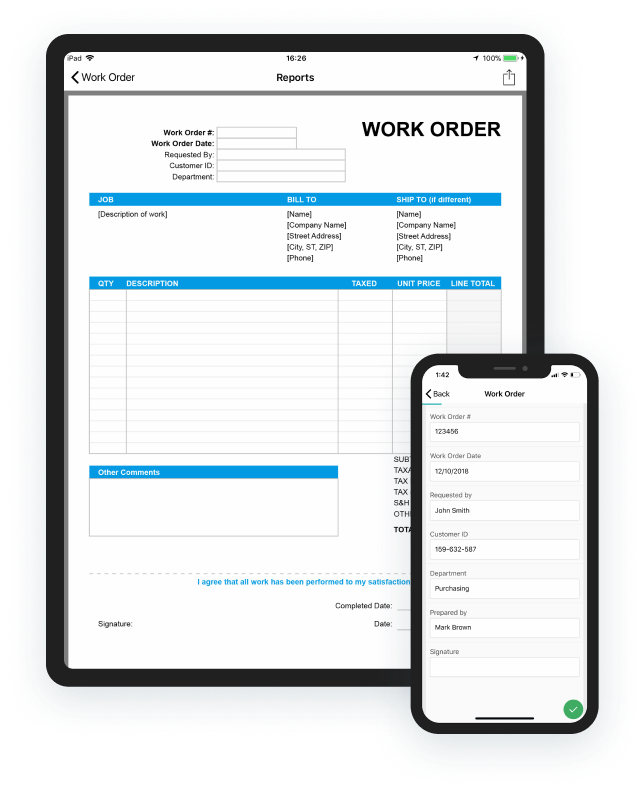 Snappii has invented its first of a kind Optical Field Recognition (OFR). OFR uses AI (Artificial Intelligence) to automatically find fields in your forms and build a digital vertical form that is easy to fill out on mobile devices.
Any company using forms and creating PDF reports can now go digital instantly without investment of time and money with this mobile forms software.
Download FREE Snappii Mobile Forms App to use your mobile forms
How it works
You
Type or speak your answers into fields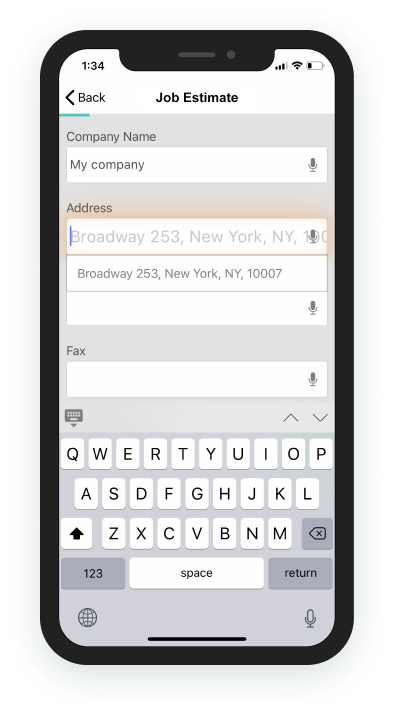 Snappii Mobile Forms App
Fills out your PDF and emails it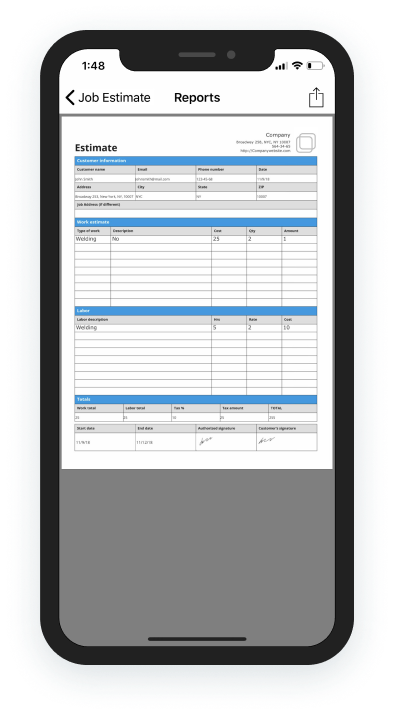 Creating mobile forms has never been so easy!
Want us to do it for you?
Custom mobile forms can be made in a matter of days. Send us your forms and requirements
Benefits of mobile forms
Fill out Forms in minutes

Save time filling out your daily reports, inspections, checklists, invoices, and more. Snappii mobile forms for business is a perfect tool to speed up the workflow. Paperwork results in a loss of productivity. For companies with employees who work in the field, this means they have to constantly get back to the office for data processing and reporting.

Also, paper forms take a long time to complete. These are a waste of time. The pre-made mobile forms require a few minutes to be filled in anywhere and at any time. Mobile apps with mobile forms instantly put data into your office employees' and managers' hands. This significantly saves time, increases efficiency and productivity.

No more illegible forms

Paper forms are filled in by hand, which increases the chance of human error. They contain illegible handwriting, missed fields, and inaccuracies. Moreover, paper forms are unreliable and can be easily damaged, and lost. Mobile forms with pre-made fields can be filled in with a few clicks which eliminates errors. Completed forms can be safely stored in the app, in the cloud, or shared with others.

Easy to find anytime anywhere

Many companies and organizations today have an increasing need to enable employees to work with various data outside of the office, right in the field. Mobile forms have become a real godsend for that. These days, it is easier to find your mobile device than a pen to sign a document. That is why so many businesses are already using field service mobile forms to complete everyday tasks.

Stored in the cloud forever

No more file cabinets and paper stacks! Stored in the cloud, mobile forms not only save time and reduce storage expenses, but are also available for quick access 24/7. The information is available at your fingertips in the cloud.
Features
Work offline

Snappii Mobile forms work in the field without Internet connection. The information will be submitted once the Internet connection is re-established.

Multimedia content

Take or upload pictures, video and audio files and add them to your mobile forms checklists, reports, inspections and more.

Voice to text

Speak your answers, don't type them!

Geolocation

Easily capture your location and add to your mobile forms.

Signatures

Eliminate office visits! Collect signatures using your mobile form.

Kiosk mode

Allow your employees or visitors register at the information desk. Reduce face to face interactions and collect data on the spot.
Examples of how mobile forms are used
Job Estimates and Field Service reports

Mobile forms are a perfect pocket tool to collect data in the field in real time. The information can be gathered on the go and sent to clients instantly. Field service mobile forms save time on job estimates which speeds up payments. No need to drive to the office to sign forms. Using Snappii mobile forms software allows workers to capture accurate data on the spot and share it with the team for estimation. The clients can approve the job with their signature and speed up the workflow. Mobile forms for business are indispensible in daily logs and reports. It is easy to add job progress, attach photo evidence, capture weather conditions and location, and so much more. Most Snappii's ready-made mobile forms can be customized to meet the needs of every business. Or you can order custom mobile forms for your organization.

Fleet Management and Vehicle Inspection

Safety comes first, and it is extremely important to manage fleet maintenance and ensure all vehicles are in good working order. Mobile forms checklists are great to fulfill the safety inspection tasks. Fleet management and vehicle inspection forms are to perform detailed inspections of various types of vehicles including heavy and not heavy ones. Such forms allow inspectors to easily identify possible issues and breakings, report them to mechanics and ask for a quick repair. Performing timely vehicle inspection is a must to provide safety for drivers on the road and guarantee safe trips and deliveries. Mobile forms are ideal to help with this task.

Bills of Lading and Invoices

Bill of lading is one of the key documents in international trade. Completing a bill of lading is an obligatory part of the carriage of goods. Paper bill of lading can't be reliable anymore. Inconvenience, labor intensiveness, inaccuracy, inflexibility, data loss, and more accompany paper documents. In the modern world of mobile technology, a bill of lading is turning to a mobile format. With mobile forms, it is easily to quickly create bills of lading right on a mobile device and provide them to third parties. Users can auto-fill the saved information, calculate the total cost, instantly email the completed bills in a PDF format, and more. Bills can be paid faster with mobile invoices and BOL.
Have more questions about custom mobile forms, checklists, inspections, inventories, daily logs, field service mobile forms? Read these frequently asked questions below.
How much do mobile forms cost?

Snappii offers to switch to mobile forms affordably. Pricing starts at $20/mo for one user. Snappii offers bulk discounts starting at 5 users. You can learn more about the pricing options here.

You can choose to convert your forms yourself, or have us do it. DIY conversion is free. Creating mobile forms is rather quick. Use the Snappii Mobile Forms app to preview and fill out your forms. If you want custom mobile forms, send them to us here and we will get back to you with the quote.

How to create mobile forms yourself?

Using the Snappii Mobile Forms Editor, it is easy to create your own mobile forms. We offer three options: 1. Create a mobile form by selecting a template. Watch a video tutorial here. 2. Create a mobile form from scratch. Watch a video tutorial here. 3. Upload your form and either edit it yourself (watch how), or use Snappii's OFR (watch how). We can always help you to better understand our mobile forms software if you have any questions.

Do I need to be a developer for creating mobile forms?

No. You don't need to have any specific development skills to create mobile forms. All you need is a computer and your mobile device. You can convert your existing forms or create custom mobile forms really fast.
Snappii Apps have over half a million users!
Now that I have the system worked out, I can get a new form up and running in no time, and it will save us hundreds of man hours when it comes time to audit our safety program.
Read more testimonials